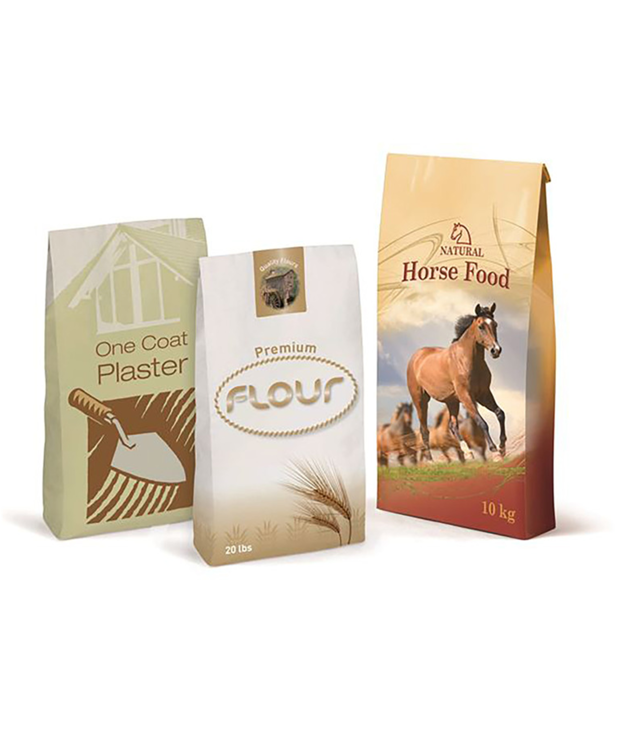 Pinch Bottom Bags
The pinch bottom (or fold over bottom) bag is an open mouth bag suitable for both food and non-food products. This style of bag utilizes pre-applied hot melt on the customer end/field closure, allowing the filler to close the bag after filling without having to purchase any additional materials.
---
Fold over bottom where graphics can be applied

Great for pet care and pet food products

Fats, oils, and strong odors are contained
---
Benefits
Excellent sealing properties

Variety of barrier options

Optimal storage and transport

Attractive bag shape

Easy Open Option

A Security Label
---
---
Applications
Pinch bottom bags are used for high-end and sensitive products in a variety of industries, including building materials, pet care and pet food, animal feed and seed, chemicals and minerals, food (DIN EN 15593).

An integrated tear-open strip allows easy opening of the bag to quickly release the contents, eliminating paper shreds that can contaminate your product when opening the bag with common devices.

The highly sophisticated anti-counterfeiting label successfully combats product forgery.
---
---
Specifications
---
Sizes
Width: 10 in to 24 in
Gusset: 2.5 in to 8 in
Length: 21 in to 48 in
Number of Plies: 2 to 6
---
Materials
From 40 lb to 70 lb, with or without grease-proof paper and with or without PE coating
---
Printing
Up to 8-color printing plus optional coating
---
---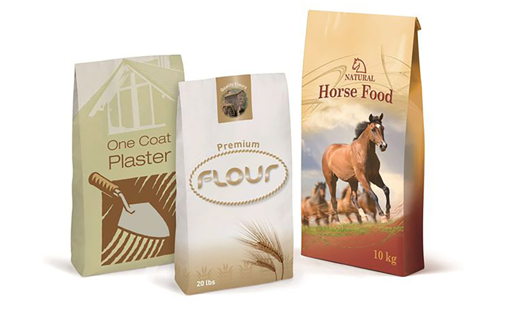 Versatile, Reliable, High Performance
For food, chemical, and other products sensitive to moisture, oxygen, or other substances, the pinch bags can be produced with heat sealable monolayer films, high barrier films, co-extruded barrier films, and foil barriers. Bags can be constructed with a heat sealed inner barrier ply and one-way venting features for powdered products. If your bag requires top-notch imagery, pinch bags can be produced with high-end graphics, process print, and high gloss outer surface. This bag can be made suitable for retail and club store distribution using high quality 8 color flexographic print with overprint lacquers for superior aesthetic appearance.
We're passionate about providing exceptional solutions and can't wait to hear from you!